Agencies-Gaza post
Israeli rabbi narrates thought after Friday prayers at UAE mosque
Israeli, Jewish rabbi, Eli Abadi, is a senior Israeli Jewish rabbi and is an American of Jewish descent narrated a thought after Friday prayers at the UAE mosque
Social media on Friday has noticed a massive wave of anger by Arab people after photos were shared presenting Jewish rabbi Eli Abadi at Sheikh al-Zaid Mosque in the UAE narrating a "thought" at Muslim residents after last Friday's prayers.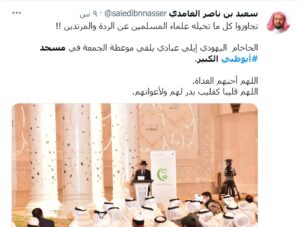 Jordanian preacher Mohammad Noah al-Qadi attended the prayer with dozens of Muslims.
The Jewish rabbi's appearance came during an event organized on Friday by the General Authority for Islamic Affairs and Waqfs, under the leadership of the Ministry of Presidential Affairs, at the Sheikh Zayed Grand University in Abu Dhabi.
These photos provoked great irritation among Arab people that pushes famous Saudi tweeter, Turki Shalhoub, to comment on the photo, "Believe it or not… A rabbi narrated a Friday speech at the Zayed Grand Mosque in Abu Dhabi, and a group of…… They listen to him with listenings! the UAE has never been reached this level before".