Agencies-Gaza post
Benzema disappears from social media
French Karim Benzema, the Real Madrid star, disappeared from social networking sites, in the last hours.
Benzema disabled his accounts on "Twitter", "Facebook" and "Instagram" after the Real Madrid match with Real Betis, yesterday, Saturday.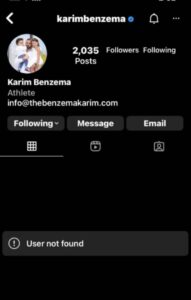 The royal team won 2-1, over Betis, but Benzema did not manage to score any goal.
Real Madrid's goals came in the match through Vinicius Junior and Rodrygo Goes in the 9th and 65th minutes, while Sergio Canales scored Real Betis' goal in the 17th minute.news
With this victory, Real Madrid raised its score to 12 points at the top of the La Liga standings, while Real Betis froze at 9 points in the third place.